Sheetal Jaitly of TribalScale: Building a Diverse Tribe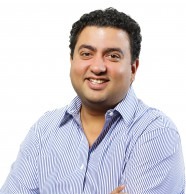 Q. Tell me about yourself (in a nutshell).
I've been working in mobile and technology since highschool (20+ years!) and have worked with small startup ventures to large corporations. Over the years, I have exercised my passion for connecting the world at Xtreme Labs, Pivotal labs and now TribalScale. I get really excited about looking at new products and new technology that changes people's lives. I use TribalScale as the platform to set the vision and foundation for the world's brightest people to build the best products!
Q. What does diversity look like in your world? At TribalScale?
Working in tech has been diverse multiculturally but not by gender. We have always struggled to hire and build diverse teams but it really hit me in the head when we started TribalScale that – wow - it's a serious problem. When we started the team with five guys, my wife brought it to my attention immediately and we have made a real point to grow in diversity. We're constantly engaged with community outreach and looking to bring on more females to our team. We ensure equal opportunity for everyone and love hiring grads right out of school, then pair them with people on our team who already have five or six years of experience.
Q. You went on the Innovation Mission to Israel in late 2016 with the city of Toronto and 70 bright individuals. What's your biggest takeaway?
We all went to Israel to learn the startup culture there. It was an incredible experience but the highlight and greatest takeaway for me was the bond we formed as a group. We were very mission oriented and a very diverse team all doing great things. Although we were in another country, we were consistently with the same people for long periods of time and these bonds will continue on in the development of the tech ecosystem in Ontario and Canada.
Q. Tell me a bit about your inspiration to move the dial personally and within your organization.
Diverse teams bring different perspectives and thought to our projects. In general, it's just a lot better when we also have women working directly with our clients! Personally, having two younger sisters and a niece makes me want to make sure that they have the best role models in their worlds to be great at what their doing
Q. What does diversity look like in 2020?
If everyone keeps playing their part, it will be a non issue in the next 5 years. It's a big goal but it will just be the way life is!